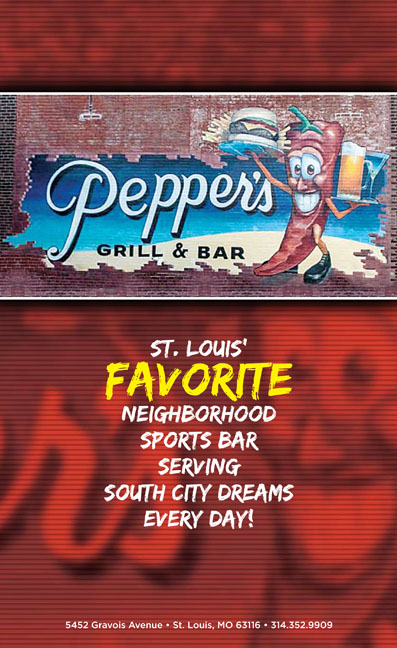 Appetizers
Toasted Ravioli
$5.99
Chicken Wings
$7.99
Pretzel Bites
Hot and steamy bites served with jalapeno cheese. $6.99
Peppers Nachos
Homemade tortilla chips loaded with melted provel cheese, ground beef, lettuce, tomatoes and jalapenos. Served with sour cream $8.59
Potato Skins
Loaded with bacon, Cheddar cheese, chives and served with sour cream $7.99
Chili: "Sue's Homestyle Chili"
(our 2013 Chili Cookoff Winner, served with cheddar cheese and onions) $3.99
Pizzas
Pepper's Deluxe
Sausage, pepperoni, bacon, green peppers, onion, and mushroom. (small $14.99, large $17.99)
Pepper's Special
Sausage, pepperoni, mushroom, and onion (small $12,99, large $16.99)
Buffalo Wing Pizza
Our famous wing sauce, grilled chicken breast, and celery topped with ranch (small $13.99, large $16.99)
Create Your Own Pizza:
Small $9.99 plus $1.99 per topping
Large $11.99 plus $2.29 per topping
Toppings include: Sausage, Bacon, Pepperoni, Chicken, Green pepper, Onion, Mushroom, Red Onion, tomato, and Jalapeno.
Salads:
Pepper's house salad
$5.99,- lettuce, tomato, red onion, and provel cheese (with grilled chicken $6.99).
Sandwiches

Cardinal Chicken
Grilled chicken breast tossed in our famous wing sauce and topped with provel cheese. $7.99
Roast Beef and Cheese
Sliced roast beef topped with melted provel cheese, served with au jus on french bread. $7.99
Chicken breast
Grilled boneless chicken with lettuce, tomato, onion and pickle. $7.99
Firecracker Chicken Sandwich
Crispy fried chicken breast tossed in our homemade spicy sauce and topped with pepper jack cheese. $7.99
The Hammer
Open faced ham and provel cheese on garlic seasoned french bread. $7.99
Burgers

Cheese Burger
$7.49
Bacon Cheeseburger
$7.99
House Burger
With durkee onion rings and soft cheddar cheese. $7.49
Cowboy Burger
Loaded with bacon, durkee onion rings, soft cheddar cheese and BBQ sauce. $8.49

Cheese options: American, pepper jack, provel, and soft cheddar.


Beverages

Pepsi, Diet Pepsi, Sierra mist, Dr. Pepper, Mountain Dew, Lemonade, Iced Tea and Coffee.
$2.59